Thanks everyone for coming out to shoot at Big Piney. We had some new shooters this month, hope they had fun and would like to see them again.
We missed some of our regular shooters, they might have been turkey hunting. Hope to see everyone back next month!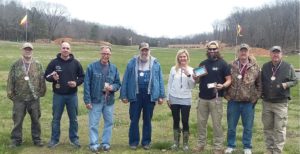 Traveling Blue Dollar Trophy Winner: Brian Bowling 399 – 24X . Don only got to keep the trophy for one month and Brian won it back!