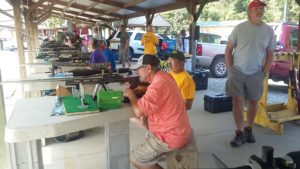 We appreciate everyone coming out to shoot the match with us today. The conditions were really tough for everyone. We had several new shooters,
hope everyone had a good time and will come back and bring some friends
The club is having a night shoot the first Saturday in October 5th and a free dinner before the match. We will eat about 6 PM and the shoot will start when it gets dark.
Eddie Luton is cooking the fish & fries, the cooking oil, plates, silverware and napkins are taken care of by the club. If you would like to bring a covered dish of some kind that would be great.
We will have our regular F Class shoot the second Saturday in October 12th.

Tactical Varmint

John Luton ~ 196 - 6x - 196 - 8x = 392 - 14X
Nathan Whited ~ 194 - 6x - 196 - 5x = 390 - 11X
Derald Milner ~ 192 - 7x - 197 - 9x = 389 - 16X
Brandon McCumder ~ 198 - 8x - 189 - 5x = 387 -13X
Larry Brown ~ 194 - 7x - 192 - 3x = 386 - 10X
Eddie Luton ~ 196 - 9x - 188 -7x = 384 - 16X
Carl Brawley ~ 186 - 5x - 194 - 6x = 380- 11X
Aaron White ~ 189 - 4x - 188 - 3x = 377 - 7X
Mark Wanner ~ 186 - 4x - 182 - 2x = 368 - 6X
Dave Madderra ~ 180 - 2x -185 - 4x = 365 -6X
X Pot Winner ~~ Eddie Luton 16X


FTR

David Hutchison ~ 200 - 6x - 194 - 5x = 394 - 11X
Israel Perry ~ 199 - 9x - 189 - 2x = 388 - 11X
Mark Todd ~ 195 - 6x - 191 - 4x = 386 - 10X
Mark Berhorst ~ 191 - 4x - 171 - 3x = 362 - 7X
Cecil Perry ~ 177 - 2x - 183 - 3x = 360 - 5X
John Moody ~ 180 - 2x - 179 -1x = 359 - 3X
X Pot Winner ~~ David Hutchison 11X





F Open

Dannie Wake ~ 200 - 15x - 199 -11x = 399 - 26X
Jerry Payne ~ 200 - 11x - 199 - 11x = 399 - 22X
Don Rabun ~ 199 - 14x - 199 - 11x = 398 - 25X
Gary Gregory ~ 198 - 10x - 197 - 5x = 395 - 15X
David Wiggins ~ 198 - 9x - 197 - 5x = 395 - 14X
Donnie Greer ~ 196 - 6x - 198 - 10x = 394 - 16X
Dave Glick ~ 195 - 11x - 198 - 8x = 393 - 19X
Justus Greer ~ 197 - 6x - 195 - 5x = 392 - 11X
Mike Beasley ~ 195 - 6x - 196 - 9x = 391 - 15X
Sheron Rabun ~ 195 - 11x - 195 - 10x = 390 - 21X
Bill Drewel ~ 194 - 8x - 196 - 9x = 390 - 17X
Rose Perry ~ 195 - 5x - 195 - 6x = 390 - 11X
Michael Luton ~ 193 - 6x - 195 - 4x = 388 - 10X
John Scanga ~ 196 - 12x - 191 - 6x = 387 - 18X
Mark Haggith ~ 191 - 7x - 192 - 4x = 383 - 11X
Tommy Todd ~ 188 - 4x - 193 - 9x = 381 - 13X
Mike Wanner ~ 180 - 3x - 185 - 2x = 365 - 5X
X Pot Winner ~~ Dannie Wake  26X